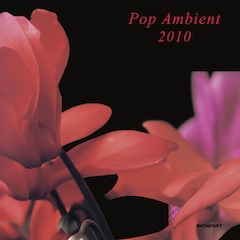 POP AMBIENT 2010 Is Out On January 18th, 2010!
Enjoy This Unreleased Free Download - Thomas Fehlmann's "In The Wind"
Dear friends, it's that time of the year again... Cologne just received its first snowflakes and there's a sweet scent of hot wine in the air. Christmas is coming closer so we want to take this opportunity to thank all of you for your fantastic support in 2009! It was a very good year...
We'll kick off the new decade with the 10th installment of our beloved POP AMBIENT series. Before it'll hit the shelveson January, 18th we'd like to sweeten your waiting time with a free download of Thomas Fehlmann's contribution 'In the wind'. We're very thrilled to announce that Sir Fehlmann just finished working on a whole new artist album which should see the light in March 2010. But first things first here's the POP AMBIENT 2010 track listing:
01. Marsen Jules - The Sound Of One Lip Kissing 02. Brock Van Wey/BVDUB- Lest You Forget 03. Triola - Schildergasse 04. Wolfgang Voigt - Zither Und Horn 05. Andrew Thomas - Clouds Across Face 06. The Orb - Glen Coe 07. Mikkel Metal - Blue Items 08. DJ Koze - Bodenweich 09. Jürgen Paape - 864M 10. Dettinger - Therefore 11. Thomas Fehlmann - In the Wind 12. Popnoname - Deutz Air 13. Brock Van Wey/BVDUB - Will You Know Where To Find Me

Enjoy the silence...